Introducing New Possibilities in Latin America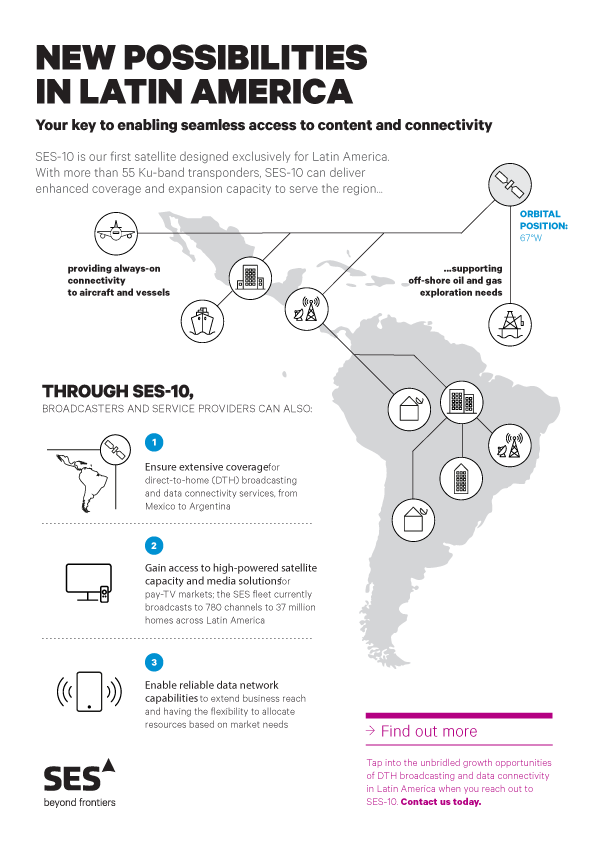 Our new SES-10 satellite is designed exclusively for Latin America.
SES-10 features high-powered beams tailored to meet a broad range of business needs across the entire Latin American region. It was built to enable and expand video, data, and mobility markets throughout Mexico, the Caribbean, South America and Brazil.
With three massive beams delivering more than 55 Ku-band transponders of reliable capacity, SES-10 offers enhanced, far-reaching coverage to open up new possibilities and growth opportunities in Latin America for years to come.
Broadcasters and Service Providers can leverage SES-10 to:
Ensure extensive coverage for Direct-to-Home (DTH) television and data connectivity services, from Mexico to Argentina
Gain access to high-powered satellite capacity and fully-managed media solutions to accelerate HD and Ultra HD delivery across Pay-TV markets. The SES fleet currently delivers 780 channels to more than 37 million homes across Latin America
Enable reliable data network capabilities to extend the reach and flexibility businesses and
communities need to thrive and grow.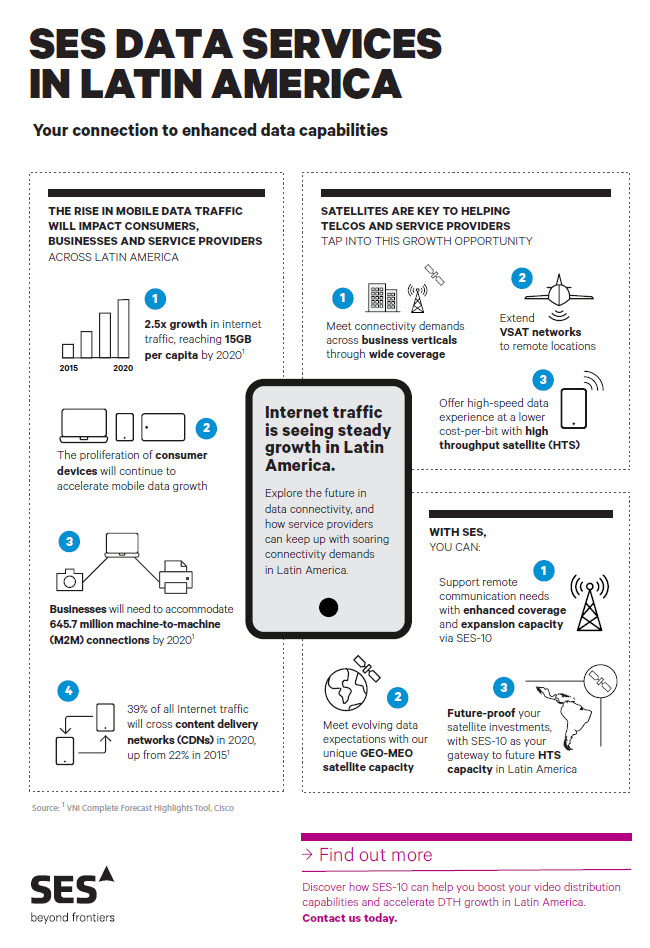 SES-10 will stimulate video market growth and innovation in Latin America, allowing DTH operators to attract bigger audiences and drive revenues with broader reach across the continent. Download the DTH eBook
SES-10 has the bandwidth telcos and service providers need to reach new customers and communities and grow their business. Download the VSAT eBook
SES-10 made history as the first satellite launched aboard a flight-proven rocket, and now SES-10 is delivering historic growth opportunities for DTH and data connectivity services throughout the region.