Featured Channel: NASA TV UHD
Featured Channel: NASA TV UHD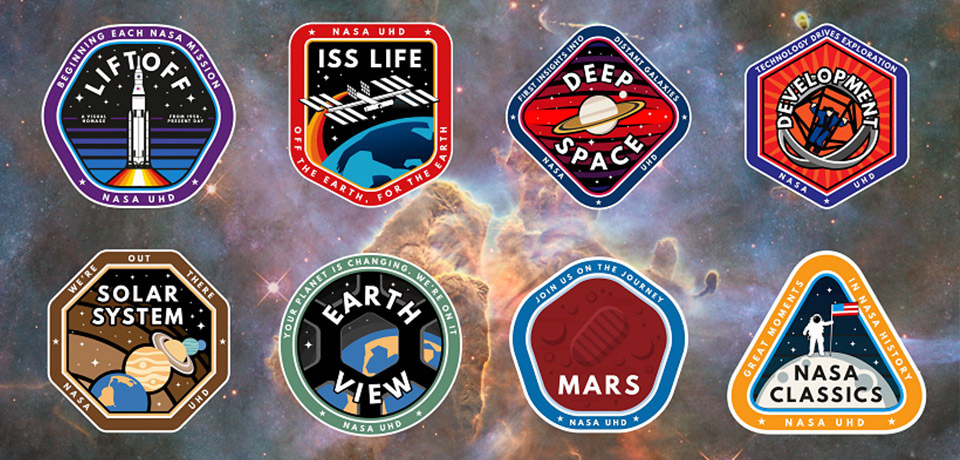 Established in 2015, NASA TV UHD is an ambient video channel that highlights beautiful imagery from the US space program. The content leverages the latest 4K Ultra HD end-to-end video processing and delivery technologies from Harmonic. Developed in partnership with NASA, NASA TV UHD is a result of a Space Act Agreement between Harmonic and the agency's Marshall Space Flight Center in Huntsville, Alabama. NASA TV UHD video is sourced from high-resolution images and raw video generated on the International Space Station (ISS), Hubble Space Telescope, and other current NASA missions. Programming also includes remastered footage from historical missions, shots from NASA's development and training processes, and the channel will ultimately provide video of live launches. Leveraging the 8M pixel resolution of the Ultra HD format, the channel creates the closest possible viewing experience to actually being in space.
NASA TV UHD consists of eight television series designed to explore the various facets of NASA's space program, including:
ISS Life, documenting life on the space station from the first-person perspective of the astronauts
 
Earth View, the astronauts' unique perception of our planet
 
Solar System, showing vibrant imagery of the earth's neighboring planets and the sun, including time-lapse videos using solar dynamics observatory images
 
Deep Space, an animated view of Ultra HD still imagery captured from the Hubble telescope and other telescopic platforms
 
NASA Classics, important highlights from NASA's history, such as the Apollo program
 
Mars, an entire program dedicated to the intriguing red planet
 
Liftoff, featuring rocket tests and spacecraft launches
 
Development, detailing the training and R&D efforts that take place before each NASA mission
It was only five or six years ago that NASA began documenting major events in 4K resolution or higher, using a 6K Red Dragon digital cinema camera. The raw video files from the camera and other sources are mailed on physical discs or sent via FTP from a variety of NASA facilities to Harmonic's post-production studio in San Jose. Here, they are stored on the Harmonic MediaGrid system, which supports an edit-in-place workflow with Final Cut Pro and other third-party editing tools. During the content processing phase, Harmonic uses Adobe After Effects to paint out dead pixels that result from the impact of cosmic radiation on camera sensors. They have built bad-pixel maps that they use in post production to remove the distracting white dots from the picture. The detail of 4K Ultra HD means that the footage also shows scratches on the windows of the ISS through which the camera is shooting, but these are left in for authenticity.
NASA TV UHD uses Blackmagic DaVinci Resolve to colour grade footage, and Maxon Cinema 4D Studio to create animations of images. The network uses Final Cut Pro X and Adobe Creative Suite to set the video to music and add text and graphics, along with the programming name, logo and branding. Final programs are then transferred in HD back to the NASA teams for review, and in Ultra HD to the SES 4K Ultra HD platform for playout to MVPDs across North America.
"The NASA TV UHD channel takes advantage of NASA's rich media library to produce hour after hour of the highest quality imagery," says Bart Spriester of Harmonic. "It leverages Harmonic's end-to-end Ultra HD video processing and delivery technology – It's a beautiful experience."
Continue reading about NASA TV
Go back to our SES 4K UHD website