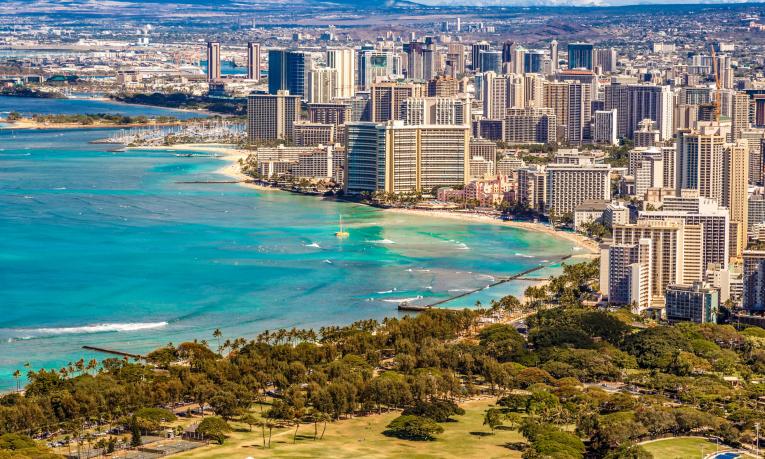 19 - 23 JAN 2019
Honolulu, Hawaii
PTC '19: From Pipes to Platforms
PTC '19: From Pipes to Platforms
19–23 January 2019
Tapa Tower 1430 (Meeting Suite)
Hilton Hawaiian Village® Waikiki Beach Resort,
Honolulu, Hawaii
PTC '19 is the Pacific Rim's premier telecommunications event with over 45 nations, 300 organisations and 7,600 attendees coming together to discover, plan and collaborate to better serve the Pacific Islands.
SES Networks' theme this year, Bandwidth is Just the Beginning, emphasizes our ability to extend the availability of broadband in the Pacific Rim and dramatically expand the range of applications and services that satellite connectivity supports. 
To go beyond a GEO/MEO link. 
To build a migration path to the future. 
To enable tomorrow's networks…today.
EVOLVE YOUR NETWORK
With a combined multi-orbit satellite fleet and extensive global ground infrastructure, our comprehensive portfolio of end-to-end managed network services and platforms provides the foundation you need to extend your network and grow your business in the Pacific Rim.

Open more markets. Enable more applications. And reach more end users than ever before.

COLLABORATE. INNOVATE. GROW.
Working with a growing network of technology platforms and partner capabilities, SES Networks enables you to deliver an unparalleled end-user experience by integrating disparate vendor solutions into one end-to-end managed network service.

Satisfy universal service obligations. Create new revenue opportunities. And lower the cost of ownership with turnkey managed partner solutions packaged with our network services.

SOLUTIONS WITHOUT LIMITS
Leveraging innovative space and ground technologies as well as software intelligence, our next-generation constellation and network ecosystem signals a long-term commitment to building on our proven commercial success. Ob3 mPOWER fully integrates with the existing SES fleet and is the highest-capacity, farthest-reaching, and most flexible system ever.

Create & Differentiate. Integrate & Optimize. Economize & Scale. And unleash an entirely new world of opportunity in Asia-Pacific with O3b mPOWER.

RESILIENCY REDEFINED
As the only GEO/MEO satellite-enabled operator with the flexibility to optimize resiliency services on capacity, latency and cost attributes, SES Networks offers a differentiated, future-proof migration path with more application awareness, more security and more network visibility.  

Resilient performance with stronger SLAs. Resilient revenue with true continuity of service. Resilient trust with minimize capital expenditures.
| | | |
| --- | --- | --- |
| PTC and PITA Meetings and Networking Opportunities | 19 January 2019, Saturday | 12:15 pm - 17:00 pm |
| Conference Day 1 | 20 January 2019, Sunday | 07:30 am - 20:00 pm |
| Conference Day 2 | 21 January 2019, Monday | 07:30 am - 19:00 pm |
| Conference Day 3 | 22 January 2019, Tuesday | 05:45 am - 21:30 pm |
| Conference Day 4 | 23 January 2019, Wednesday | 07:30 am - 21:00 pm |
Refer to the full conference schedule
Keynote Topic: Vision for Connectivity in the Pacific
Date: 21 January 2019, Monday
Time: 10:10 am – 10:30 am
Location: Tapa 2
In recent years, multi-orbit satellite innovation has driven digital transformation across the Pacific region. SES has built a unique infrastructure and service capability designed to respond to the insatiable demand for data. But what is next? A hyper-connected Pacific is only attainable if we make satellite an integral part of the global cloud-scale network ecosystem, in other words, making satellite mainstream. Together with fibre and wireless, a truly automated, virtualized satellite-based network service platform will pave the way for new applications in IoT, 5G, and enable businesses and communities to prosper.
Panel Session Topic: Satellite Leaders Luncheon
Date: 21 January 2019, Monday
Time: 12:00 am – 14:00 am
Location: Tapa Tower, Honolulu Suite
The satellite industry is in the midst of a transformation promising to change the very dynamics of how satcom service is delivered globally. Lower pricing, enhanced capacity, and telecom-centric offerings all now place satellite squarely alongside the traditional means of telecom transmission. In the Pacific, satellite remains as a critical backbone to communications across a vast, dispersed user base. How then will the current satcom market shifts affect users in the Pacific? Are satellite solutions able to meet the complex video and data requirements in the region, at the right price? This panel of satellite industry leaders will explore these questions and plot the path that satcom plays in the Pacific over the next decade.

Meet the team attending PTC '19:
1. Steve Collar, President and CEO, SES
2. Elias Zaccack, EVP, Global Sales, SES Networks
3. John Turnbull, Sales Director, Australia and Pacific, SES Networks
4. Alan Cheng, Sales Manager, Pacific, SES Networks
5. Robert Stojanovic, Senior Manager, Sales Engineering, Fixed Data APAC, SES Networks
Our meeting room suite is located at:
Tapa Tower 1430
Hilton Hawaiian Village® Waikiki Beach Resort,
Honolulu, Hawaii