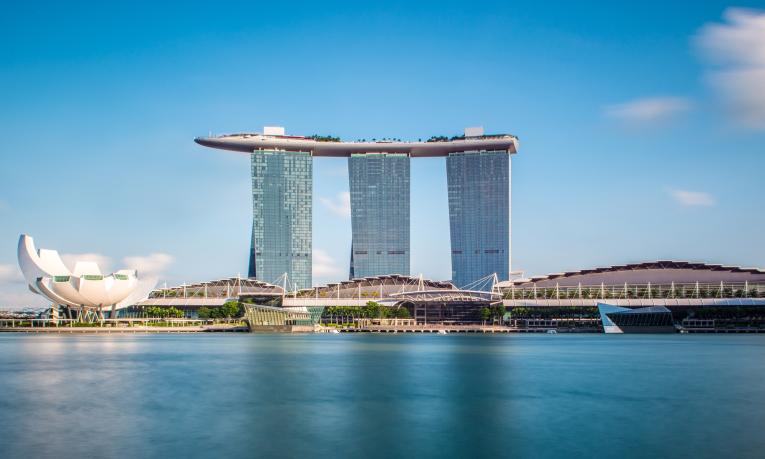 26 - 28 JUN 2018
CommunicAsia 2018
Discover how our end-to-end solutions redefine consumer experiences in Asia
Marina Bay Sands, Singapore
Level 1, Hall C, Booth #1R2-01
26 - 28 June 2018
Join us at CommunicAsia 2018 and let us show you how our satellite-enabled solutions are powering the next evolution in consumer experiences. Explore how our enhanced video capabilities and managed network services are designed to help you maximise growth opportunities—going beyond satellite to empower new applications and innovative business models.
Reinventing Video Experiences
Visit our booth and explore how our end-to-end solutions can be tailored to reinvent your video business, enabling you to deliver high-quality content and expand your audiences.
| | |
| --- | --- |
| | Discover our complete portfolio of video solutions and media services that support broadcasters to successfully deliver TV packages with both linear and OTT content, and roll out HD and Ultra HD content with confidence. |
| | Experience the VoD Everywhere demo, our newest solution for direct-to-home (DTH) operators looking to deliver on-demand and catch-up content via satellite in remote regions. |
| | Learn how MX1 360, our Unified Media Platform that enables you to monitor, manage and deliver your linear and non-linear content and channels from anywhere in the world. |
Elevating Experience
Meet us at CommunicAsia as we showcase our new capabilities, a brand new geostationary (GEO) satellite, and an exciting new medium Earth orbit (MEO) system – all working together to deliver the high-performance, always-on data services that allow your users to achieve and experience great things all across Asia and the Pacific.
| | |
| --- | --- |
| | EXPERIENCE ENHANCED - SES-12, launching in the second quarter of 2018, extends the market's only multi-orbit, multi-band satellite network for an even more diverse range of alternatives across Asia-Pacific to ensure highly resilient data services and incredible user experiences. |
| | EXPERIENCE EMPOWERED - O3b mPOWER, the world's most exciting new satellite system, brings cloud-scale reach, unrivaled capacity, optimised flexibility and fibre-equivalent performance to connected experiences across Asia and the world. |
| | EXPERIENCE ENABLED - Our unique end-to-end managed experience mitigates business risk, helps control costs, and expands revenue opportunities across fixed data applications like cell backhaul. |

Learn how to elevate your customers' experience with SES Networks. Schedule a meeting with us now. 
SES Insights sessions at the Booth
Register now to meet with subject matter experts and learn how SES Video can support your business to scale new heights.
Platform Solutions for Growth
When: 26 and 27 June, 1:30 pm to 2:00 pm
Discover how our platform solutions empower broadcasters to deliver a unique offering of local and international content, to grow their audiences and drive new video experiences.
MX1 360: Delivering the Ultimate Viewing Experience
When: 26 and 27 June, 2:15 pm to 2:45 pm
Hear how broadcasters can move beyond traditional TV delivery with MX1 360, the complete media service platform that manages, delivers and monetises content across any on-demand platform.
SES at ConnecTechAsia Summit
ConnecTechAsia Summit 2018 will bring together industry leaders to explore the trends and pressing issues impacting the broadcasting and ICT landscape. Our senior executives will discuss how SES is driving market transformations and new technology innovation.
NetworkComms Track
Location: B2, back of Hall E, Marina Bay Sands
Date: 26 June 2018

1:40 pm

Disruptors Dialogue: Breaking Free from the Connectivity-Driven Competition

SES panelist: Eric Watko, EVP, Product, Marketing & Strategy, SES Networks

Join Eric Watko as he discusses the future outlook of connectivity in Asia and hear how telco operators and tech startups can collaborate to bring fresh perspective and enable innovation across the connectivity ecosystem.
SatComm Track
Location: Melati 4003 – Level 4, Marina Bay Sands
Date: 26 June 2018

2:10 pm

Content Panel: Shaking up the Value Chain

SES panelist: Deepak Mathur, Executive Vice President, Global Sales, SES Video

Deepak Mathur will provide insights into how evolving consumer taste and content preferences are impacting the entire video value chain—and how broadcasters and satellite operators need to evolve to keep pace with changing market demands.

4:00 pm

Panel: LEOs, MEOS, GEOs…..and Everything In Between

SES panelist: Imran Malik, VP Fixed Data Asia-Pacific, SES Networks

Recent developments in MEO constellation to complement SES's GEO satellite portfolio have attracted global attention. Imran Malik will share how SES's unique GEO and MEO satellite fleet will revolutionise connectivity and enable next-generation data services for businesses and consumers alike.