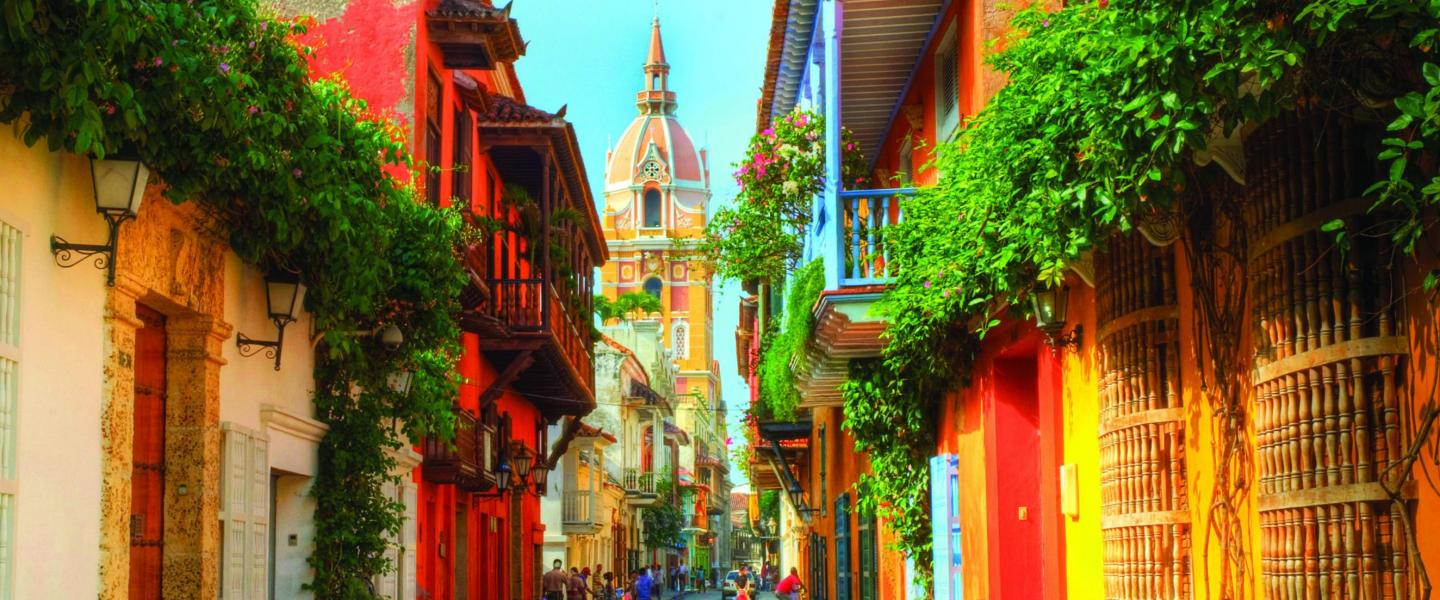 Cartagena Convention Center
26 - 28 February 2019
Cartagena, Colombia
SES-10
Launched in 2017, our SES-10 satellite is designed exclusively for Latin  America. It was built to enable and expand vídeo, data, and mobility markets  throughout Mexico, the Caribbean, South America and Brazil.
SES-10 is stimulating video market growth and innovation in Latin America,  allowing broadcasters operators to attract bigger audiences and spread your content across the continent.
At Andina Link, you will be able to learn more about our SES-10 satellite and  talk about it with our SES experts. Learn more about SES-10.
You may also request a contact here.
SES-14
SES-14 differentiates itself by the use of its wide coverage beams in combination with spot beams. This enables the optimization of entertainment and connectivity applications by delivering live TV content and internet capability simultaneously, thereby increasing the market that SES can meet with this launch.
Launched in 2018, SES-14 serves Latin America, the Caribbean, North America and the North Atlantic region with broad beams covering the C and Ku bands and spots with high processing capacity on the Ku band. Learn more about SES-14.
Video on Demand Everywhere
With VoD Everywhere, SES is filling this growing Latin America market demand by delivering a wide variety of rich, on-demand content to these consumers without the internet connection, putting all together: best DTH, quality of service, global reach and comprehensive service programming. A few benefits of Vod Everywhere are the mass distribution of optimized video delivery with ubiquitous availability, and an end-to-end video platform with flexible component choices. Learn more about VoD Everywhere.
You can explore and know more about our Vod solutions with our Sales Team at Andina Link, in Cartagena.
You may also request a contact here.
4K Ultra HD
After the huge success in North America, SES is bringing 4K Ultra HD to Latin America, starting a new era of television and content across the continent with an all-in-one package: 4k content, satellite distribution and reception gear. SES continues to introduce advanced broadcast services in new regions and the launch of 4K Ultra HD in Latin America opened up a whole new world of 4K content across the region. 
Come and meet us at Andina Link to learn more about our 4K Ultra HD solutions and talk to our SES experts.
You may also request a contact here.
MX1 360
MX1 360 is the next-generation media platform and it simplifies the video content management process. The main objective of MX1 is to bring together the full range of media services and with that, to help our customers to handle the various tasks of managing, monitoring, and delivering linear or non-linear content to any broadcast, VOD or OTT.
MX1 360 ensures your audiences to get the audience they want, when they want. One single interface, flexible, scale and agile are a few of the platform highlights. Learn more about it.
Our unified media platform, MX1 360, will be showcased at Andina Link. Come and visit us.
You may also request a contact here.
Alexis Martinez, Sr. Director of Sales Latin America & Caribbean, talked about the biggest highlights that SES will bring to Andinalink. Come and visit us at the Cartagena Convention Center from February 26-28th.