29 JUL 2018 - 01 AUG 2018
Anaheim, CA
ACA-NCTC TIS 2018
Disneyland Hotel
29 July - August 1, 2018
Anaheim, CA
The Independent Show (TIS) 2018 is the place where independent cable and broadband providers gather alongside content distributors, vendors and industry professionals. Event offers relevant and thought-provoking general sessions and breakouts intended to keep participants apprised of what's going on in the industry and the best ways to respond. The Independent Show provides plenty of opportunities for conversations among peers, sharing best practices and forming lasting business relationships, connecting with the best and brightest industry leaders and innovators.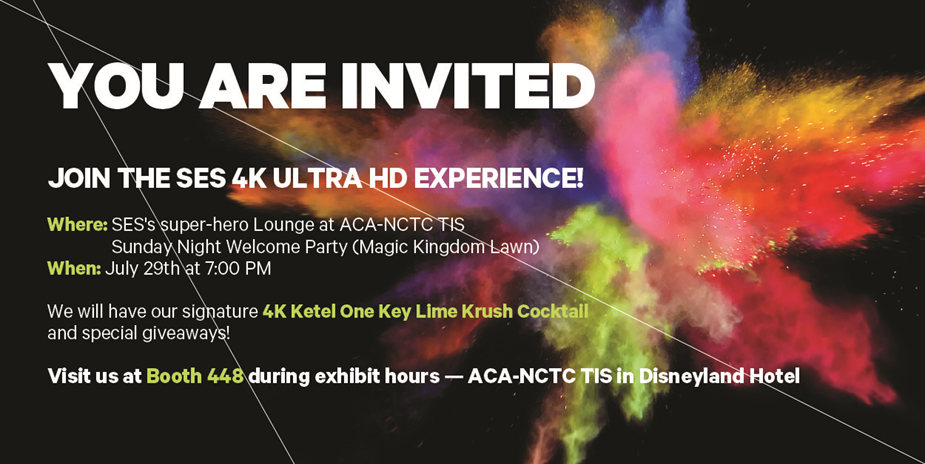 Visit us at ACA-NCTC TIS Show 2018! SES will be exhibiting at the ACA-NCTC TIS show on July 29th-August 1st!
Come join us at our SES Super-hero Lounge , during ACA-NCTC TIS Welcome Party, Sunday night at 7:00pm. We will be glad to have you there and share a 4K Ketel One Key Lime Krush Cocktail with us!
We also invite you to stop by our Booth 448 for fun give-a-ways and to meet one-on-one with SES's colleagues to get the latest updates on our 4K UHD Platform. During the show we will be sharing the details about the FCC C-Band Antenna registration, don't hesitate to come and share any questions or doubts you may have. Contact us if you will be attending ACA-NCTC TIS Show!
Learn more at the event website
Take a look at the SES 4K UHD website