Consumer video viewing habits have changed. More and more people – even in previously hard-to-reach remote areas – want to watch high-quality video as and when they want, across multiple devices.
This video consumption behaviour is becoming more prevalent around the world, posing a challenge to pay-TV, internet service providers (ISPs), cable and mobile network operators as they look for new ways to differentiate their services from over-the-top (OTT) video-on-demand (VoD) providers, while keeping pace with these evolving trends.
With SES's innovative end-to-end video solutions, pay-TV, ISPs, cable and mobile network operators can provide differentiated video experiences to existing consumers and reach underserved markets.
Being a pioneer in direct-to-home (DTH) and high-definition (HD) innovation, we offer satellite capabilities and media solutions to keep your business at the forefront of the new video landscape. Our sophisticated satellite infrastructure, tailored end-to-end video solutions and media platform services can enable you to grow your business by helping you serve your market demand with high-quality video content.
Download the following assets today:
ENHANCING EXPERIENCES, ACCELERATING GROWTH
This eBook looks at the current landscape of video delivery around Asia-Pacific and how you can achieve market-leading growth by delivering a differentiated video experience.
LEADING BREAKTHROUGHS, DELIVERING INNOVATION
This eBook offers insights on how you can surmount terrestrial connectivity challenges to deliver a differentiated video experience to underserved regions with SES's end-to-end video solutions.
STAY UPDATED WITH US
Receive the latest product and service information, newsletters, business event invitations and related communications from SES.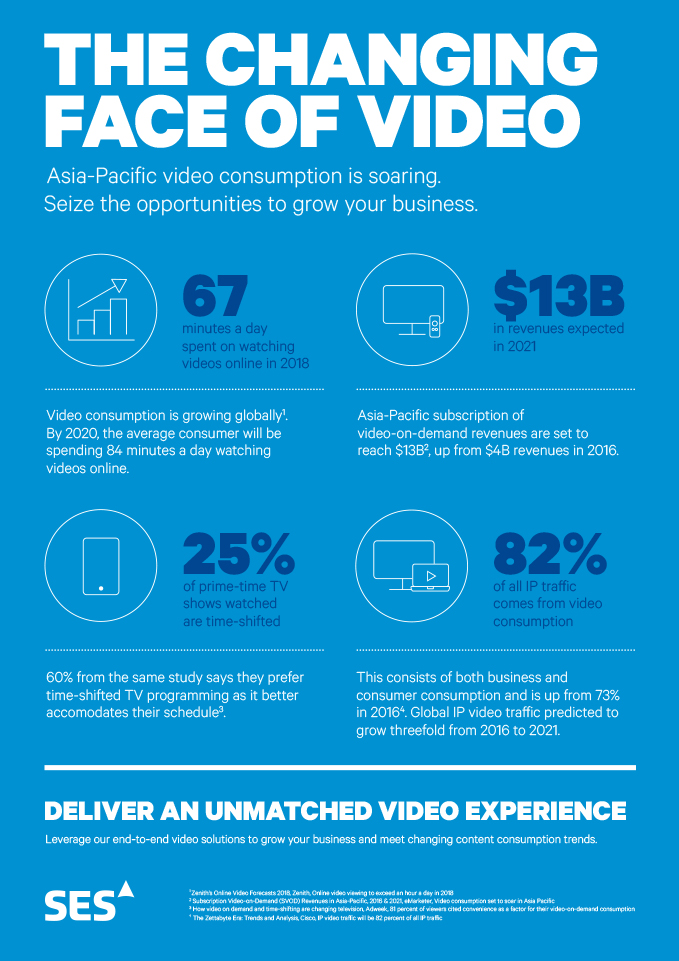 Video consumption in Asia-Pacific is soaring. By 2021, the video market could be worth up to $13 billion. The video preferences of audiences are also changing, with on-demand video, time-shifted programming and catch-up TV rapidly growing in popularity. Learn how SES's tailored end-to-end video solutions can help you grow your business by delivering a differentiated video experience in addition to existing linear content – providing viewers with more desired content options.
DELIVERING ON-DEMAND VIDEO CONTENT WHEREVER, WHENEVER
Consumers expect easy access to on-demand video content – regardless whether they're inside or outside the range of terrestrial broadband connections. VoD Everywhere offers pay-TV operators the ability to reach remote regions, providing audiences with the next level VoD-like content experience, catch-up TV, Live Event Broadcasting and multiscreen experience.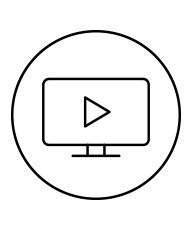 Offers an end-to-end video solution
A tailored video solution catered to your business requirements and your consumers' demands.
Guaranteed Quality of Service (QoS).
No latency, buffering or dropouts compared to OTT VoD offerings.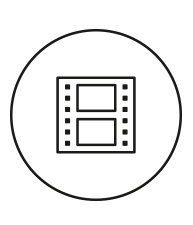 Enables ubiquitous video delivery
Provides efficient infrastructure for mass distribution through satellite.
Reaches remote areas at the lowest cost.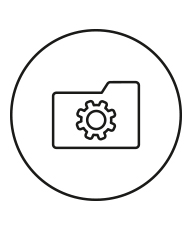 Programs your service
VoD Everywhere delivers a VoD-like video experience for consumers to watch videos at a time of their own choosing.
Audiences can always find something to watch with content regularly refreshed on VoD Everywhere that supports a real VoD-like programming experience.
OVERCOMING TERRESTRIAL CHALLENGES FOR UBIQUITOUS VIDEO DELIVERY
Network Offloading video distribution solution enables media businesses to deliver rich media content in a ubiquitous way to regional and local pay-TV, ISPs, cable and mobile network operators, by leveraging SES's satellite network to "offload" video content for playout purposes. It facilitates the delivery of online linear and on-demand video content to underserved IP networks, while also relieving existing networks from the burden of additional video consumption by end viewers.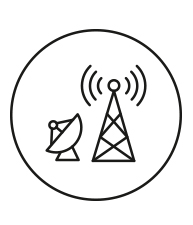 Overcomes terrestrial network challenges
Our satellites deliver guaranteed QoS and high-quality video experience.
Feeding remote regions with your VoD content across multiple devices through IP-based networks.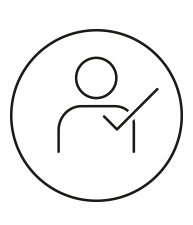 Accesses to new markets
Network Offloading offers the flexibility to expand your service portfolio.
Creates a combination of a VoD content library and linear TV.
Offers catch-up, offline playback and a frequent refresh of content with reduced buffering.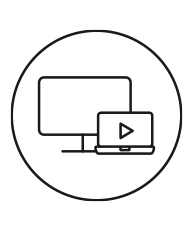 Focuses on your core business
Further integrates our fully-managed video solution into SES's end-to-end Online Video Platform (OVP).
Creates enriched multiscreen viewing experiences with ease.
Discover how SES can help you achieve
market-leading growth with a suite of innovative video solutions, which have already made us the partner of choice for eight leading DTH providers in Asia.
YOUR TRUSTED
SATELLITE PARTNER

Delivering a differentiated video experience
SES's tailored end-to-end video solutions enable pay-TV, ISPs, cable and mobile network operators to deliver a differentiated video experience with on-demand content delivery.

Future-proofing your infrastructure
Leverage SES's robust infrastructure and satellite network to alleviate heavy bandwidth pressures on your existing networks. Pay-TV, ISPs, cable and mobile network operators are able to meet surging video demand with a robust video experience that presents a truly differentiated video experience.  

Scaling new heights of innovation
SES empowers pay-TV, ISPs, cable and mobile network operators to go to market quicker with our scalable solutions.