The demand for data in the Asia-Pacific region is at an all-time high, according to PWC. It's providing new opportunities for growth for a huge range of businesses. From telcos and mobile network operators to governments and mobility providers, those who act fast will reap the rewards from a huge market that's waiting to be served. SES-12, our new and most advanced Geostationary satellite, can help you to meet this demand.
Fixed Data
With over 3 billion mobile connections, 4G will become the lead mobile network technology in 2020 and will continue to dominate until 2025. Enterprises such as banks can combine the High-Throughput (HTS) payload and wide-beam coverage of SES-12 to achieve greater efficiency.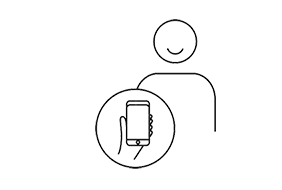 Over 3 billion
unique mobile subscribers in Asia by 2025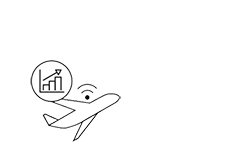 US$5.35 billion
in projected IFC revenue for airlines worldwide in 2028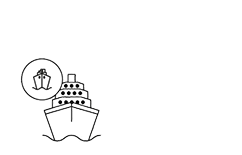 4.02 million
cruise passengers in Asia-Pacific in 2019
Mobility
With IFC connectivity revenue forecast of US$5.35 billion for commercial aviation in 2028, SES-12 is here to empower service providers to address soaring connectivity demands in the aviation sector. Cruise passengers in Asia-Pacific, which saw at least 4.02 million passenger in 2019, will continue to rise, and creating more opportunities in the maritime sector.
Government
4G mobiles connections surpassed 60% of total connections in Asia-Pacific in 2019, and 5G is expected to overtake both 2G and 3G by 2022.
Governments and institutions can leverage the flexibility of wide beams and HTS to tailor solutions for dynamic data requirements, ranging from government e-services to connectivity programmes that bridge the digital divide.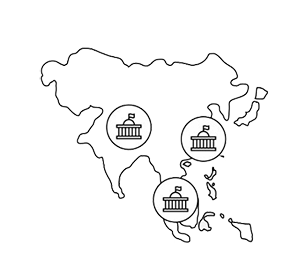 Extensive reach
across Asia for governments looking to bridge the digital divide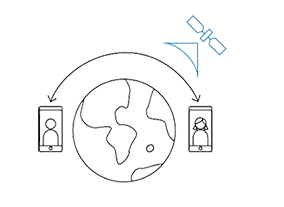 Ku-band wide beam coverage
for reliable, highly resilient network connectivity over a wide geographical area
Cloud
Asia-Pacific will continue to be the largest regional IoT market by number of connections.
SES-12 augments our Ku-band HTS capacity over Asia, enabling high-performance, reliable cloud service delivery to remote and underserved communities.
Serving rapidly-growing needs
SES-12 is our first satellite with wide beams and high throughput spot beams for Asia-Pacific, and is here to enable you to elevate the experiences of people, businesses and communities across the region. Designed in close consultation with our customers in the region, this new satellite delivers significant advantages and more flexibility for you to serve rapidly growing needs.
| | |
| --- | --- |
| | Prime orbital position at 95°E, covering the Asia-Pacific and Middle East regions, including fast-growing markets such as India and Indonesia. |
| | Comprehensive wide beam coverage to meet diverse connectivity demands in VSAT, enterprise, and government applications. |
| | Six wide beams and 72 high-throughput spot beams tailored for new data-heavy applications, such as HD video streaming for airline and maritime passengers. |
The Heart of Opportunity
The benefits of SES-12 speak for themselves.
SES-12 means a reliable high-performance capacity to meet even the most dynamic data requirements.
It means cost-efficiency thanks to the lower cost-per-bit of high-throughput capacity. It means seamless coverage over major air and sea transport routes. It means future-proof network connectivity that addresses emerging market applications. And it means extensive reach for governments looking to bridge the digital divide.
SES-12 puts you at the heart of opportunity.
Explore more content related to SES-12: