Platform Solution for the Philippines
Delivering Innovation, Creating Opportunities
Direct-to-home (DTH) video continues to be the fastest growing TV platform in the Philippines and represents an exciting opportunity for pay-TV industry players to grow their business and improve profitability.

Our Platform Solution in the Philippines can help you to expand your market reach, increase revenue, and better monetise your content through our partnership with MEDIAHOUSE.PH.
Content providers can expand their programming and launch new channels with no incremental carriage cost 
Advertisers can gain unprecedented reach and access to new business opportunities
Pay-TV operators can easily add channels without having to pay for additional satellite capacity or content costs
Learn how to monetise your video content by expanding your market reach while future-proofing your infrastructure through SES's Platform Solution.
Channel Partners
High-quality, entertaining content for the Philippines
Through our partnership with CLUBTV, SES's growing list of channel partners in the Philippines includes a variety of engaging, high-quality channels designed to help attract new viewers, and keep your current customers entertained—all delivered via our unparalleled satellite-enabled infrastructure.
GINX Esports TV is the first and largest Esports TV network in the world. With a broad range of Esports entertainment shows as well as live tournaments coverage, GINX Esports TV aims to extend the reach of Esports into mainstream sports audiences, 24 hours a day, every day.

With over 3,000 hours of short-form content showcasing the art of luxury and living, Luxe & Life is the world's premium pay-TV network showcasing fascinating destinations, fancy hotels and resorts, and fine living at its best.

Motorvision TV is the premier channel for car enthusiasts around the globe, with more than 30 unique formats of programming including compelling automotive reviews, motorsport events, test-drives and documentaries.

The Health & Wellness channel is the ultimate coach for those who are seeking to sustain a better lifestyle. With a variety of entertaining shows promoting healthy habits for the mind, body and soul, Health & Wellness also provides step-by step guides and recipes for a healthier diet and for managing weight.

Pet & Pal offers a variety of entertaining and informative programs about pets, including valuable advice on training, grooming and nutrition as well as funny pet videos; pet fashion; and cute and wild pet moments not seen anywhere else.

With more than 500 titles from major producers in various genres, My Cinema Europe presents the best of European movies including numerous award-winning and Oscar-nominated "best foreign language" films.
The Market Potential of the Philippines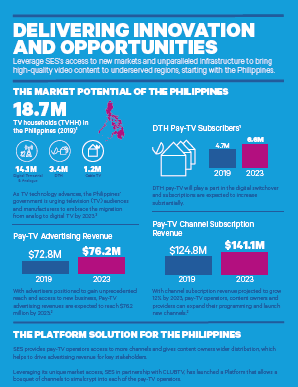 This infographic provides insights on the current state and future of the TV market in the Philippines and how you can monetise content through SES's Platform Solution.
contact us
Learn how SES can be your partner of choice to deliver your content to more audiences and help your business thrive in this fast-changing landscape.
Get in touch with us today