Bringing you HTS with a Difference
We live in a world defined by the millions of connections between people, devices and things. Each contributing to the smart cities of tomorrow, and transforming the ways in which we consume media and TV content. Satellite has a key role to play in addressing these global connectivity developments.
SES enables people and businesses to connect in exciting new ways—taking a highly customer-centric approach to building new capabilities for different markets.
Being close to the ground and listening to what our customers are asking for, we recognise that some market applications are best served by a combination of technologies, and not a "one size fits all" approach.
That's how we designed SES-12, our upcoming satellite for the Asia-Pacific region.
SES-12: FUTURE-PROOF DESIGN, DRIVEN BY INNOVATION AND INSIGHT
SES-12 enables you to leverage both wide beams and High-Throughput Satellite (HTS) spot beams for your diverse direct-to-home (DTH) broadcasting needs. Giving you differentiated capabilities to shape future video and connectivity experiences.  
We're always thinking ahead to support our customers' business. With SES-12, you can take advantage of wide-beam coverage to expand your channel reach across the region. At the same time, its spot beams give you the flexibility to bring tailored pay-TV content to specific markets. The unique HTS capabilities is also ideal for delivering broadband services.
It is this push for innovation and close consultation with customers that spurred the hybrid design of SES-12, bringing unmatched flexibility for both DTH and multi-platform video distribution across Asia-Pacific.
Combined with our media services and ground infrastructure, our end-to-end video solutions empower you to scale up your business in the most efficient manner.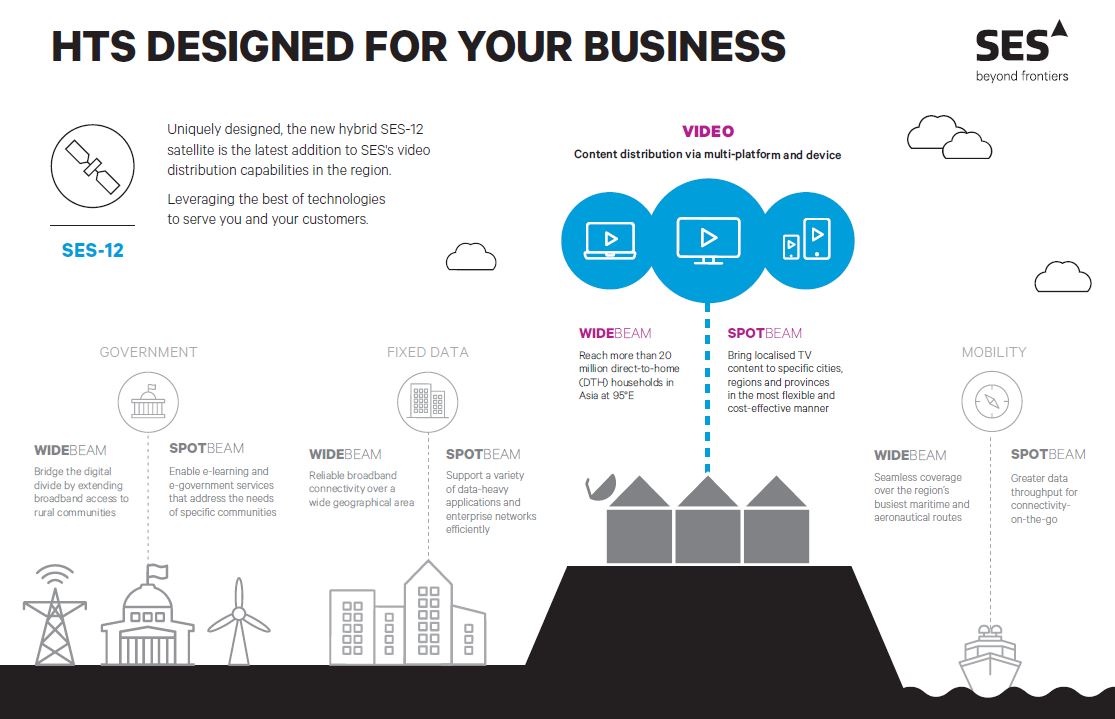 HTS DESIGNED THE WAY YOUR BUSINESS WANTS IT
Tailored to your needs today—and in the future—you can enjoy the benefits of HTS spot beams for some applications, and enjoy the flexibility of wide beam coverage for other applications.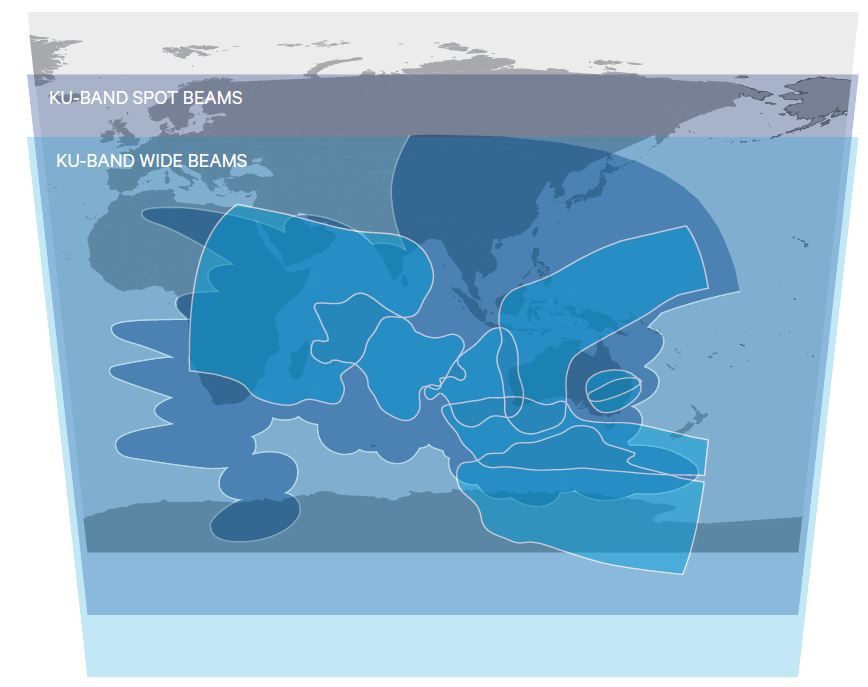 VIDEO DISTRIBUTION VIA MULTI-PLATFORM AND DEVICE

Take advantage of the hybrid capabilities of SES-12 to offer a more complete package of video and broadband connectivity services:

Reach more than 20 million TV households across Asia-Pacific with the satellite's wide-beam coverage via our prime video neighbourhood at 95°E
Deliver localised content in different languages to specific cities and provinces with Ku-band spot beams
Utilise concentrated spot beams to provide higher data throughput for high-speed broadband connectivity along with pay-TV services

BROADBAND SERVICES

Gain the flexibility of combining wide beam with HTS capacity for high-powered connectivity:

Leverage multiple high-powered spot beams to achieve operational efficiencies and extend reliable broadband services customised to specific needs and requirements
Tailor connectivity solutions to specific requirements, by bringing together the strengths of both wide-beam and HTS capacity 
Take advantage of the unique capabilities of SES-12, and benefit from:
Flexibility
of using both wide beams and high-powered concentrated spot beams

Reach
of more than 20 million TV homes across Asia

Cost efficiency
achieved via the lower cost per bit of HTS

Seamless coverage
over the region's major air and sea routes

Future-proof
capacity to address new market applications 
GET UPDATED
Subscribe to learn more about how SES-12 the unique capabilities of SES-12 can help you and your customers.