Across the globe, consumers want immersive video experiences – whether they're watching video-on-demand (VOD) content on the TVs and mobile devices, or live event broadcasts. Broadcasters and direct-to-home (DTH) operators are adapting to increasing expectations from consumers - as internet service providers (ISPs), mobile network operators (MNOs) and over-the-top (OTT) content providers enter the playing field with compelling video content.
Meanwhile, the widespread adoption of mobile devices means that audiences are no longer satisfied with consuming video at home – they want access to high-quality video content wherever and whenever, on any device. In 2018, approximately 78.4%1 of digital video views are expected to come from mobile phones users.
SES is the world's leading satellite operator,providing innovative technology and end-to-end, tailored video solutions that can empower you to redefine your DTH and pay-TV business.
VOD EVERYWHERE
Video-on-demand has changed the way content is consumed, with consumers now demanding a comprehensive library of video content that they can watch anytime, anywhere, and on multiple devices.
With VoD Everywhere, DTH operators can offer consumers linear TV with VoD features. Better yet, VoD Everywhere excels against OTT VoD offerings, as DTH distribution means that consumers never encounter issues with latency, buffering or drop-outs. Because VoD Everywhere is powered by SES's satellites, the service lives up to its name by reaching consumers living in rural and underserved areas with poor network coverage. Best of all, consumers can now watch their favourite content on up to 5 devices with VoD Everywhere's Wi-Fi-enabled set-top box.
Linear TV with VoD Features: Catch-up capability, live event broadcasting, start-over functionality and a multiscreen experience.
Guaranteed Quality of Service (QoS): DTH distribution offers zero latency, buffering and drop-outs.
Expand Your Reach: SES's satellites reach rural and underserved areas.
Quality VoD Programming: Keep consumers interested with a constantly-refreshed library of video content.
Low Risk: Low capital expenditure and variable pricing options available.
Multiple Devices: Consume content on up to 5 devices with Wi-Fi capability on the set-top box.
Enter new markets and reach wider audiences with the best of satellites and VoD technology
A NEW WAY TO WATCH TV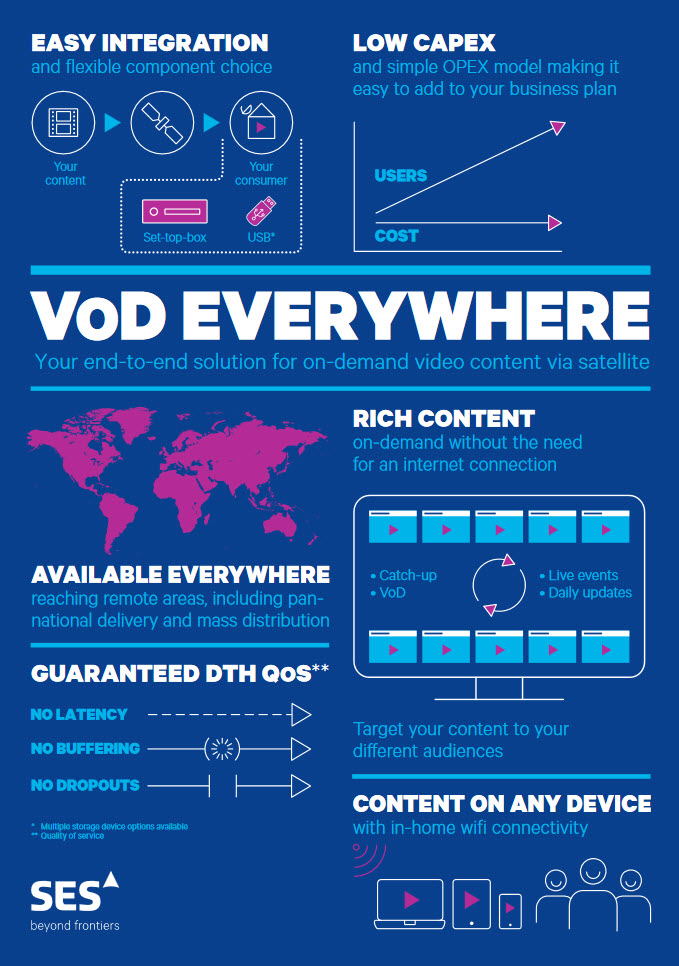 This infographic provides an overview of the video consumption trends globally and in Asia-Pacific, and how you can redefine unreachable with VoD Everywhere.
VIEW THE INFOGRAPHIC
NETWORK OFFLOADING
Today, more than ever, consumers are enjoying entertainment wherever they are - whether at home, or on-the-move with their smartphones and tablets. While reaching these audiences is simple enough in urban areas, it can be difficult in underserved regions.
Network Offloading makes it possible to deliver high-speed, high-quality video to consumers, wherever they are. What's more, Network Offloading alleviates video bandwidth consumption on core internet networks.
Internet service providers (ISPs), cable and mobile network operators can now deliver attractive services such as consistently-refreshed VoD content library, catch-up TV and offline playback to consumers everywhere.
Satellites to ISPs: Our video distribution-optimized satellite network "offloads" video content to regional ISPs.
ISPs to Consumers: Video packages are delivered to consumers' mobile devices through operator's managed and IP-based network.
Accessing Video Content: Consumers access on-demand video library using a software app, available as part of MX1 360 platform.
The Best of Both Worlds: Consumers can now enjoy both linear and on-demand video experiences across multiple platforms.
Bring unrivalled video experience to underserved regions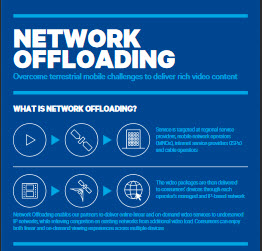 This infographic provides an overview of terrestrial mobile challenges, and how Network Offloading delivers benefits for consumers, ISPs, cable and mobile network operators, and an unmatched video experience to everyone.
VIEW THE INFOGRAPHIC
THE SES ADVANTAGE
Video consumption habits are rapidly changing, especially with more content being watched on both linear and on-demand platforms. In the race to win the hearts and wallet share of consumers in Asia, broadcasters are adapting to deliver the best viewing experience across multiple screens.
SES is developing the unique capabilities and media services needed to meet these growing needs. These include broadcast and video distribution solutions like VoD Everywhere, Network Offloading, and more to enable you to bring your content to new audiences. We believe in the power of collaboration, supporting our customers to embrace new possibilities and keep up with changing market demands. Whether you want to expand your audience reach or enable richer video experiences, our satellite communication solutions are tailored for your success.
Speak with our team of experts today and explore how our latest video solutions beyond satellite can be tailored for your businesses to reduce technical complexities and fulfill new market demands with confidence.
stay updated
Receive the latest product and service information, newsletters, business event invitations and related communications from SES.
Get in touch with us today