As the largest and most populous continent in the world, Asia's appetite for video content is growing at a rapid pace. Linear TV revenue is expected to rise 16% from USD 99.1 billion in 2017 to USD 114.8 billion by 2023, compared to over-the-top's (OTT) revenue of only USD 19.8 billion1 in the same time frame.
Pay-TV subscribers are predicted to climb 13% from 608.7 million in 2017 to 686.4 million in 20232. India, the largest direct-to-home (DTH) market, has 64.3 million active pay-DTH subscribers with a subscription revenue of USD 2.2 billion in 2017. Other markets with a significant presence of free-to-air (FTA) DTH services include India, Indonesia, Japan and Thailand. Overall, there is still ample room for growth as Asia's pay-TV penetration rate was 57% in 20181.
Considering the challenges of diverse markets, vast terrain and remote areas, good strategic planning backed by thorough market research is the key to serving Asia's rural and underdeveloped communities, while achieving DTH success.
1The Asia Video Industry Report 2019
2Asia Pacific Due to Grow Pay-TV Numbers by 13%
DTH Case Study: Kiwisat
Industry
Broadcasting
Location
The Caribbean
To guide you on your DTH journey, it is important to choose a partner with the expertise, experience and infrastructure to weather any storms. Hurricane Irma destroyed 75% of St Martin in 2017, disrupting access to electricity, water, internet and TV. When terrestrial infrastructure is damaged, it is extremely difficult to get services back online. But satellite provides quick-to-deploy solutions to overcome these challenges, enabling satellite TV services to resume a few hours later.
The inherent advantages of satellite communications such as cost-effectiveness, superior reliability and performance have inspired pay-TV operator Kiwisat to launch a DTH service across the Caribbean. In 2018, they partnered SES to offer the first, reliable pay-TV service with a broad range of premium content at an affordable price. From conception to execution, SES supported Kiwisat every step of the way to ensure they had the complete end-to-end DTH solution and resources to launch and grow their business.
Your DTH Infographic
Alternatively, get an overview with our DTH infographic, which includes:
All the key features of DTH
How to achieve success for your DTH business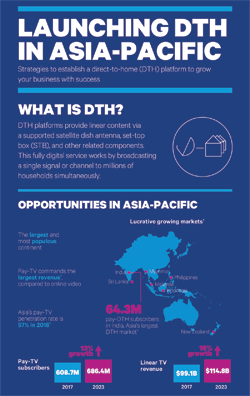 Stay updated
Receive the latest product and service information, newsletters, business event invitations and related communications from SES.
Subscribe to our communications